President and Chief Executive Officer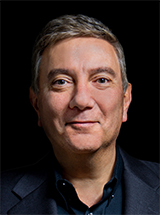 Ron Nersesian is president and chief executive officer of Keysight Technologies. In November, 2011, he was named executive vice president and chief operating officer of Agilent Technologies. The following year, in November 2012, he was promoted to president and chief operating officer.
When Agilent announced the separation of its electronic measurement business in 2013, Nersesian was appointed Keysight president and CEO and led the launch of the new company. Keysight became a public, independent company in November 2014.
Nersesian began his career in 1982 with Computer Sciences Corporation as a systems engineer for satellite communications systems. In 1984, he joined Hewlett-Packard and served in a range of management roles during his tenure.
In 1996, Nersesian joined another industry player as vice president of worldwide marketing. He subsequently assumed other senior management roles through 2002, including senior vice president and general manager of the company's digital storage oscilloscope business.
Nersesian joined Agilent Technologies in 2002 as vice president and general manager of the company's Design Validation Division. In 2005, he was named vice president and general manager of the company's Wireless Business Unit and manager of Agilent's Santa Rosa, California site. In 2009 Nersesian was named president of Agilent's Electronic Measurement Group.
Nersesian holds a bachelor's degree in electrical engineering from Lehigh University and an MBA from New York University, Stern School of Business. He also serves as an independent director on the Board of Directors of Trimble Inc. and as a member of Georgia Tech's Advisory Board.