Senior Vice President,
President, Communications Solutions Group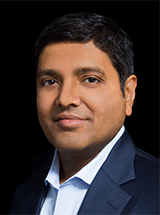 Satish Dhanasekaran is senior vice president of Keysight Technologies, and president of the Communications Solutions Group (CSG).
Named CSG president in July 2017, Dhanasekaran leads the $1.8 billion business which addresses the complete communications ecosystem which includes wireless, wireline and aerospace and defense design and test businesses.
Dhanasekaran was most recently the company's vice president and general manager, Wireless Devices and Operators business segment. In this role, he managed solution conception, development, and go-to-market strategies of design and test solutions for the wireless industry. He led transforming Keysight's portfolio to test software layers in mobile devices. Prior to that, he served as marketing manager for Keysight's Microwave and Communications Division which produced industry-leading performance products in the RF space. During his career with Agilent Technologies and Keysight Technologies, Dhanasekaran has held a variety of customer-facing leadership positions, including wireless 4G business development manager and national application engineering manager.
Before joining Agilent Technologies in 2006, Dhanasekaran worked at Motorola designing and leading development for first-generation smartphone devices.
Dhanasekaran holds a master's degree in Electrical Engineering from Florida State University. He actively sponsors Keysight representation in standards bodies such as 3GPP, CTIA - The Wireless Association, GCF/PTCRB and industry consortia including IMT-2020 and the International Wireless Industry Consortium (IWPC).