Introduction
The Keysight CX3300 series Device Current Waveform Analyzer now offers two new sensors that enable the characterization and validation of power delivery network (PDN) devices up to 100A. This extended range allows the CX3300 series to expand its application coverage from low-power IoT to mobile, automotive and various high current applications.
Critical Requirement of PDN Device Evaluation
Thorough current profile evaluation of PDN devices is one of the most important measurements for IoT/mobile device characterization and validation. However, thorough evaluation takes a long time and requires complex setups because existing measurement instruments do not have enough capabilities to measure the current profile quickly and accurately.
Gaining a true picture of the current profile of mobile devices is important, due to the ever-increasing need for improved functionalities and performance, and also the need for lower power consumption.
Not having an effective solution for current profile measurement can cause the competitive advantage loss that can include:
Extended product time-to-market
Reduced performance and reliability
Increased cost when optimizing performance
How does the Keysight CX3300 Solution Address Market Needs?
The Keysight CX3300 is a solution that enables the characterization and validation of PDN for IoT/mobile devices quicker and more accurately. The ultra-low-noise, wide bandwidth and wide dynamic range performance of these new sensors (CX1104A and CX1105A), used with the CX3300 series now allows measurements at a wider range of dynamic current, from 1 μA to 100 A with more precision and speed.
CX3300 Features/Benefits
The new CX1104A and CX1105A sensors expands the CX3300 series applications capabilities from low-power IoT device to various devices that require higher current operations, such as MPU (Micro Processing Unit), GPU (Graphics Processing Unit), APU (Application Processing Unit), SoC (System on a Chip), FPGA (Field Programmable Gate Array), ECU (Electronic Control Unit) for automotive, WiFi, etc.
The low noise and wide bandwidth measurement performance provide insights into accurate current profile previously not possible. Confidently and quickly verify the design and optimize its design margins, reducing product development cost.
The single product solution delivers the required dynamic current measurements and analyses, shorting the time-to-market, improving device quality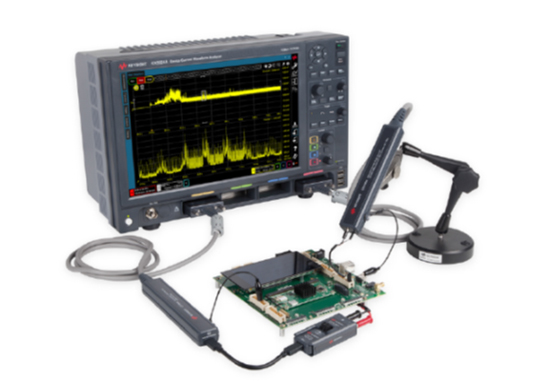 Application example using these new sensors
Additional Information
Keysight CX1104A uses one of six available calibrated resistive sensor heads. These resistive sensor heads enable dynamic current measurements from 1 μA to 15 A with flat frequency response up to 20 MHz. Since the insertion resistance of each sensor head is very small (5.5 mΩ, 8 mΩ, 23 mΩ, 53 mΩ, 103 mΩ and 1 Ω), the voltage drop can be negligible.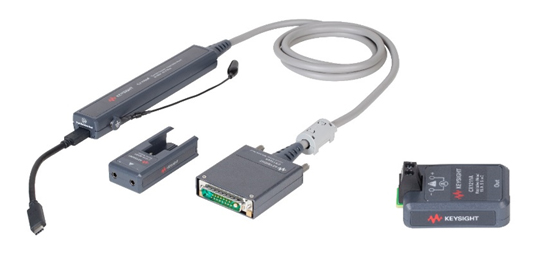 Shown is the Keysight CX1104A Selectable Shunt Current Sensor and the Resistive Sensor Head
Keysight CX1105A measures differential voltage across a shunt resistor on customers' evaluation board and converts the result as current. It provides a much better measurement dynamic range thanks to the industry-lowest-noise performance, which allows measurements that are cleaner and more precision dynamic current up to 100 A just by connecting to the shunt resistor. The maximum measurement bandwidth is 100 MHz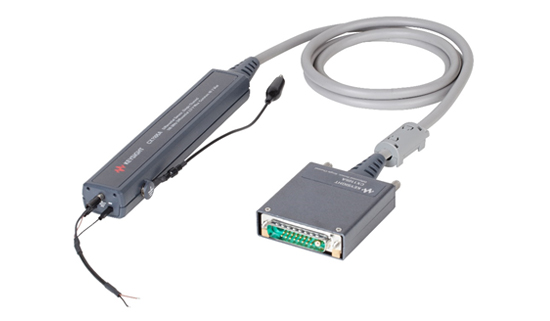 Shown is the Keysight CX1105A Ultra-Low Noise Differential SensorThe OS for the Keysight
CX3300 now supports Windows10.
The product color is changed to the Keysight black.
About Keysight Technologies
Keysight Technologies, Inc. (NYSE: KEYS) is a leading technology company that helps enterprises, service providers, and governments accelerate innovation to connect and secure the world.  Keysight's solutions optimize networks and bring electronic products to market faster and at a lower cost with offerings from design simulation, to prototype validation, to manufacturing test, to optimization in networks and cloud environments. Customers span the worldwide communications ecosystem, aerospace and defense, automotive, energy, semiconductor and general electronics end markets. Keysight generated revenues of $3.2B in fiscal year 2017. In April 2017, Keysight acquired Ixia, a leader in network test, visibility, and security. More information is available at www.keysight.com.
Related Information