February 3, 2016
Introduction
Some technological transformations happen over a long period of time and are based on such a broad range of innovations that they are only clear in retrospect.  Such is the case with the newest RF/microwave signal analyzers.  For many measurements they still operate like swept spectrum analyzers, but a look at their expanding capabilities and the technology behind them reveals a gradual technological revolution.
The swept spectrum analyzer paradigm has served RF/microwave engineers well for decades, reflecting the hardware architecture of superheterodyne downconversion and intermediate frequency (IF) filtering that is also the basis for radios, radars, etc.—the devices these analyzers are used to measure. This synergy has guided engineers in making a wide variety of critical measurements, with performance that kept pace with their designs.
This analyzer paradigm—and its corresponding user interface—has persisted while the underlying technology in analyzers has evolved and improved dramatically. The biggest change in the block diagram is the increasing use of digitizing and digital filters or FFTs to create a vector—no longer scalar—IF section. The rapid increase in digitizing bandwidth and processing power has been incremental, but transformative, leading to advances such as vector measurements and digital demodulation .
New signal analyzer types and a unified approach
The changes have been big enough to create major departures from the swept spectrum analyzer paradigm, in the form of separate analyzer types. The most significant were vector signal analyzers in the early 1990s and real-time spectrum analyzers about a decade later. These new analyzers operated differently from traditional swept spectrum analyzers in many ways, made different measurements, and produced different displays.
Advancing technology cuts both ways, however, and RF engineers are contending with ever more complex signals and systems.  The last thing they need is any avoidable complexity or artificial boundaries in fundamental measurement tools like signal analyzers.
The technology in the latest Keysight X-Series signal analyzers is therefore designed to bend this trend in ways that make the job of the engineer a little simpler and reduce the risks in choosing an analyzer.  This is accomplished in two ways:
Use a single analyzer platform to cover everything from swept to vector to real-time analysis. RF engineers may need the functions of two or more analyzer types, and often more than they initially purchase. The flexible platform and upgrades described below mean that original purchase decisions can be effectively changed as DUTs and standards evolve.
Simplify measurement setup, analyzer operation, no matter the analysis type.  The touch-enhanced user interface (UI) technology popularized and highly evolved in tablets can be adapted readily to large signal analyzer displays. Deep and complex functionality no longer demands a deep and complex hardkey/softkey UI. The analyzer can provide a more intuitive connection between designers and the answers they need.
The intuitive operation, insight and efficiency of the swept analyzer paradigm need not be lost or diluted, even though the hardware and software "under the hood" has undergone another major evolutionary step. Indeed, the technology in the newest analyzers corresponds with that driving the rapid development of new DUTS, signals, and standards.
Multi-touch display and features streamline measurements & setup
Large-screen, multi-touch user interface for direct access to measurements, controls: For many measurements the established swept-analyzer displays and controls are familiar and efficient. However the expanding functionality of signal analyzers has led to a much deeper hardkey/softkey menu structure and a dramatic expansion of display types.  The X-Series signal analyzers now have a larger screen with multi-touch functionality similar to that of tablets.  The measurement display and settings are easily controlled using familiar gestures such as single or double tapping to select a parameter or expand a window, dragging, and pinching to zoom and scale displays, and press-and-hold to access context-sensitive selections.
The intuitive power of the swept analysis paradigm remains, and a single touch of the display menu panel, measurement bar, annotation hot spots or drop down windows provides direct access to major parameters in simple spectrum measurements and complex digital demodulation, as shown in figures 1 and 2.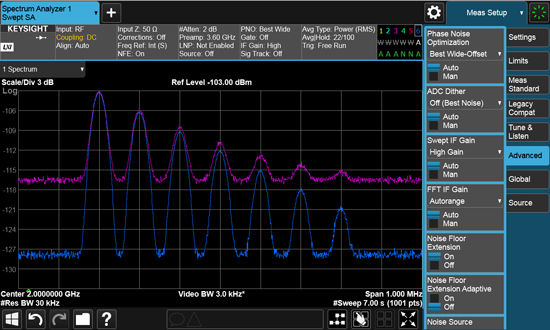 Figure 1: A single press on the menu panel provides direct access to Keysight's Noise Floor Extension (NFE) technology, yielding up to 12 dB improvement in spectrum analysis noise floor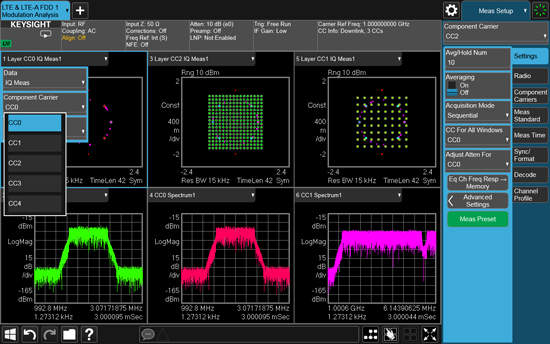 Figure 2: Drop down windows quickly configure an LTE-A FDD ETC transmitter measurement, including 256QAM demodulation
It now takes no more than two touches to get to any measurement, allowing the extensive analysis functions and displays of the X-Series analyzers to be navigated without abandoning the natural feel of a swept analyzer when making regular spectrum measurements.
Easing measurement tedium in natural, intuitive ways: New features take advantage of analyzer processing power and displays for a faster and more direct path to results. X-Series signal analyzers include a sophisticated auto-tune feature, to find and center the likely signal-of-interest with a single touch. In multi-signal environments a banded peak search algorithm intelligently steps from signal to signal. Finally, frequently used measurement setups and settings can be turned into user menus, for one-button access to custom functions as shown in figure 3.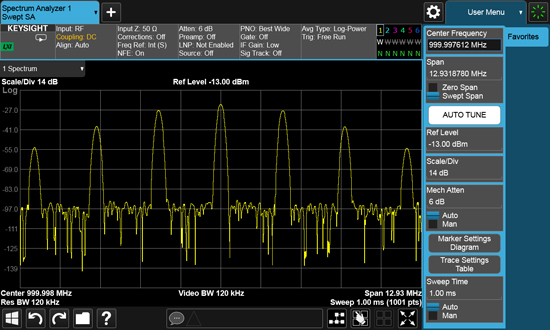 Figure 3: Repeated or commonly used measurements and parameters can be selected with a single touch through the creation of a User Menu
UI consistency across five models: In an environment of increasingly complex signals and tests, there is an inevitable learning curve for engineers, and often a significant investment in test software. The most effective approach to minimize these costs is twofold:  1: Minimize change (or required learning) from that of the traditional swept analyzer. 2: Use the same UI, measurement applications and programming across many hardware platforms, including box and modular instruments.
The Keysight X-Series architecture includes a hardware measurement abstraction layer that shields front panel users and test programmers from internal hardware differences and resulting complexity wherever possible. Engineers can choose any of the five X-Series signal analyzers and their options to match their need for performance, bandwidth, and frequency coverage.  Changes in budgets and throughput requirements need not result in re-training or re-programming.
Signal analyzers as a complete wideband solutions platform
Expanded analyzer functionality as a solutions platform: The wideband RF/microwave downconversion and digitizing at the core of the latest signal analyzers is performed with extremely high accuracy and dynamic range. This data corresponds to the IF of a radio or radar receiver and it is a natural fit for storage and further processing by other tools. Equipped with a high-speed external interface (PCI Express or PCIe), some X-Series analyzers provide real-time streaming to external recorders and processors. Wideband recording is supported to 160 or 255 MHz with the PXA and 255 MHz with the UXA, as shown in figure 4.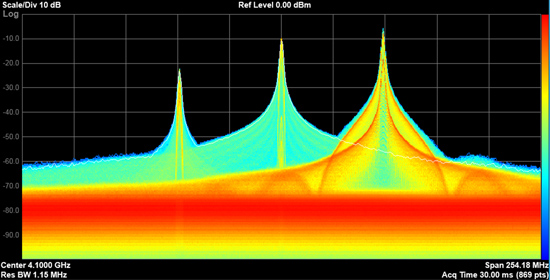 Figure 4: Keysight UXA and PXA signal analyzers support real-time streaming up to 255 MHz bandwidth. Recordings can then be used to generate different measurements and displays
External storage solutions offer nearly unlimited capacity, with dedicated signal processing to sort through data and find signals, interactions or events of interest. These long-duration, high-bandwidth solutions are ideal for today's crowded spectrum and advanced technologies such as cognitive radios.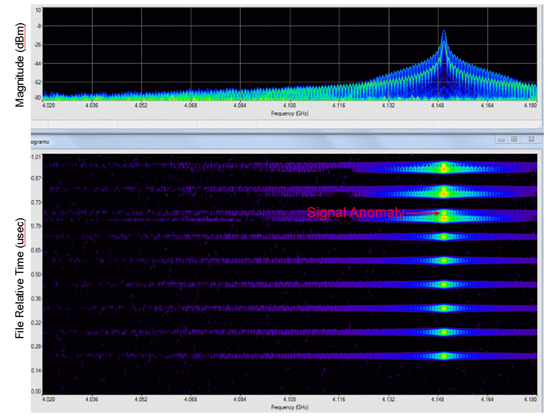 Figure 5: X-COM Spectro-X Software combined with UXA or PXA real-time streaming allows engineers to detect and analyze signals of interest or unusual events within recordings of signal activity
Wide bandwidth to support real-time analysis and triggering: Sampling and internal recording up to 510 MHz bandwidth is now available with both the PXA and UXA models, enabling real-time spectrum analysis, frequency mask triggering, time-qualified triggering, and complete vector signal analysis. Vector signal analysis and playback of recorded data supports multi-signal demodulation, along with new physical layer techniques such as carrier aggregation.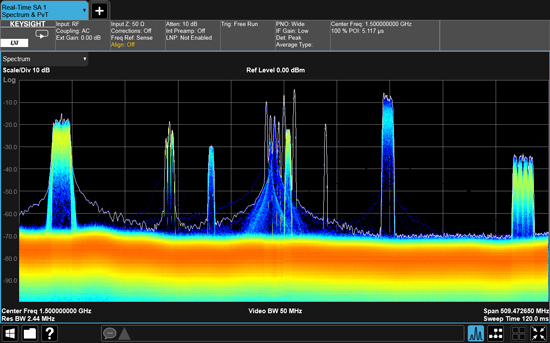 Figure 6: Measurement, internal time capture, and real-time spectrum bandwidths to 510 MHz are available in the UXA and now PXA X-Series signal analyzers. These bandwidths are also supported for all vector signal analysis operations
X-Series signal analyzers can also be used as wideband high-fidelity analog downconverters to feed other receivers or digitizing tools such as oscilloscopes. Bandwidths to 1 GHz are available with the UXA and include frequency response corrections.
Finding problems, determining cause and effect: The large touchscreen and multi-trace displays of the X-Series, when used with real-time and vector signal analysis tools make it easier for engineers to create multiple, simultaneous views of complex signals. These views leverage the system knowledge of the engineer to make it possible to identify cause and effect relationships even when signal behavior is complex and timing is unknown.
Five price/performance choices with common measurement applications: As with the UI, measurement applications are common across the five X-series analyzers. Measurements, algorithms and controls are compatible, in applications ranging from general measurements such as phase noise and channel power to standard-specific ones such as LTE.
Keysight's 89600 VSA software is common across the five X-Series analyzers and extends to other tools used by RF/microwave engineers such as oscilloscopes network analyzers, logic analyzers, digitizers, and EDA software.
Direct digital synthesizer local oscillator
As mentioned above, the improved performance and bandwidth of digital technologies is allowing them to replace analyzer functions that have previously been analog.  The latest example in RF/microwave signal analyzers is the local oscillator.  A Keysight-designed RF-optimized DAC is the core of a direct digital synthesizer (DDS) that is used in the local oscillator (LO) of two X-series signal analyzers, the UXA and now the PXA.
Because the LO is used in all frequency-conversion operations, its purity and frequency stability are reflected in the signal analyzer's spurious and phase noise performance figures.
For medium to narrow frequency offsets (below about 1 MHz) the DDS-LO is used alone, and an important benefit is the elimination of a PLL-related pedestal in the analyzer's own phase noise floor.  For wider offsets the DDS-LO is used in combination with a YIG-based PLL to yield phase noise performance improvements there as well.
After-purchases upgrades: Hardware, software, frequencies, feature
Test equipment is a substantial investment, operating in an environment where signals, standards, and test requirements can change significantly during its useful life.  The architecture of the X-Series signal analyzers is designed to make both major and minor upgrades practical, to deal with changes that might otherwise render an analyzer inadequate or obsolete.
For major upgrades, both frequency range and analysis bandwidth can be changed after purchase, to correspond to options available for new analyzers.  Existing analyzers can also be upgraded to the larger displays and multi-touch technology described here.
Other upgradable features include real-time spectrum and vector signal analysis, frequency mask triggering, internal preamplifiers, and external mixing.
The analyzer's computer infrastructure can also be updated to include faster processors, larger or solid-state disk drives, and faster data interfaces.  These upgrades are especially helpful for processor- and data-intensive applications such as digital demodulation and vector signal analysis.
Summary
Keysight's X-Series signal analyzers include a range of choices to match the needs of engineers dealing with complex signals and systems, while reducing measurement complexity with a consistent, intuitive multi-touch UI.
The evolved capabilities of these analyzes include a combination of spectrum, real-time, and vector signal analysis measurements that link cause and effect and bring designers and developers to the answers they need.
About Keysight Technologies
Keysight Technologies (NYSE: KEYS) is a global electronic measurement technology and market leader helping to transform its customers' measurement experience through innovations in wireless, modular, and software solutions. Keysight's electronic measurement instruments, systems, software and services are used in the design, development, manufacture, installation, deployment and operation of electronic equipment. The business had revenues of $2.9 billion in fiscal year 2015. Information about Keysight is available at www.keysight.com.
Related Information
X-Series Signal Analyzer: