January 14, 2016
The USB Implementer's Forum (USB-IF) has developed the USB Type-C™ cable and connector to enable smaller product designs, enhance usability by providing reversible plug orientation and direction, and establish a power delivery and charging infrastructure. Multiple serial standards including USB, Thunderbolt, DisplayPort and MHL, have announced support for the USB-C connector.
Keysight's USB Type-C solution set—software, instruments and fixtures—is ready for complete testing of the standards converging on this universal interface. Whether focused on design or validation, Keysight's complete solution will help engineers quickly move from debug to characterization to compliance to done.
USB History and Evolution
Many factors drove the creation of the original Universal Serial Bus (USB) 1.0, released in 1996.
Single Connector Type with Expandability
The introduction of USB enabled the replacement of different legacy connectors with a single connector used on USB peripheral devices, eliminating the need for multiple cables and connectors. This was combined with the ability to expand to connect multiple peripheral devices to a single bus at one time.
Performance/Speed
At its original introduction, Low Speed USB 1.0 delivered at 1.5 Mbps. With subsequent releases over the past two decades, USB has increased transfer rates that can support a variety of USB peripherals up to 10 Gbps with USB 3.1.
Power
USB distributed power to all connected devices, which eliminated the need for external power sources for low-power devices.
Ease of Use
In addition to the above, ease of use from the end-user's perspective contributed to the broad adoption of USB.  Having a single standard connector type for all USB devices simplified device connections. USB devices are hot-swappable and plug-and-play. The ability to plug and unplug without reboot and automatically identify devices and load drivers by operating systems greatly simplified connectivity issues.
USB is the most popular interface ever to hit the consumer electronic space in the history of personal computing, largely driven by the need for device charging over USB on many consumer electronic products.  The USB installed base is currently estimated to be 10+ billion units growing at 4+ billion units a year. (Source: Multimedia Research Group, January 2013; USB Implementers Forum 2014)
Type-C: What is it? Why Does it Matter
Given the popularity of USB and computing platforms and devices moving to smaller and thinner form-factors, many of the original industry drivers are creating the need for development of the next evolution of the Universal Serial Bus. The USB-IF describes the USB-C connector as:
Slim and sleek connector tailored to fit mobile device product designs, yet robust enough for laptops and tablets
Features reversible plug orientation and cable direction
Supports scalable power and performance to future-proof your solution

Performance/speed: Data transfer at 10 Gbps, 20.625 Gbps with Thunderbolt 3.0, and a path to 40 Gbps for future performance.
Power: USB Type-C power delivery enables power up to 100 W and bi-directional power, enabling a peripheral device to also now charge a host.
The single connector type enables expandability to support multiple standards, and generations of standards, referred to as ALT mode.  Type-C will support USB 2.0, 3.0, 3.1, Thunderbolt 3.0, DisplayPort 1.2, 1.3, and MHL.
Keys Design and Test Challenges and Solutions
Transitioning from the 4-pin Type-A and –B connectors that simply provide data transfer and low power charging, to the 24-pin USB-C connector that enables backwards compatibility and reversible use, higher data speeds, ALT mode for other standards operation, and bi-directional high power delivery, creates substantial design and test challenges.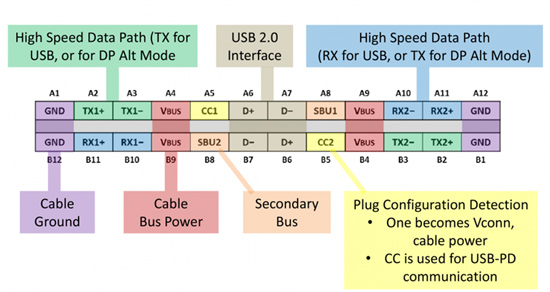 Design Simulation
The challenges begin in design and simulation. USB 3.1 10 Gbps signals are severely degraded in the channel, and will have a closed eye at the receiver input pin.  An end-to-end simulation from transmitter pin to receiver pin covering packages, PCBs, connectors, and cable will reveal insights on where the signal is experiencing bottlenecks. Advanced Design System USB Compliance Test Bench enables the use of the same compliance application used on Keysight Infiniium oscilloscopes. By mimicking the real hardware test bench, the exact same tests are applied to both pre-manufacture simulated design and the actual post-manufacture prototype. This enables designers to find problems early and avoid costly hardware prototyping cycles.
Summary
The Type-C cable and connector provides the next generation interface to enable smaller product designs, enhanced usability and enable an entirely new power delivery and charging infrastructure. With increased simplicity for end-users comes increased complexity from a design and engineering perspective. Keysight's USB Type-C solution set—software, instruments and fixtures—is ready for complete testing of the standards converging on this universal interface. Whether you're focused on design or validation, our solution will accelerate you from debug to characterization to compliance to done
About Keysight Technologies
Keysight Technologies (NYSE:KEYS) is a global electronic measurement technology and market leader helping to transform its customers' measurement experience through innovations in wireless, modular, and software solutions. Keysight's electronic measurement instruments, systems, software and services are used in the design, development, manufacture, installation, deployment and operation of electronic equipment. The business had revenues of $2.9 billion in fiscal year 2015. Information about Keysight is available at www.keysight.com.
USB Type-C™ and USB-C™ are trademarks of USB Implementers Forum.
Related Information