25 September, 2018
Introduction
The promise of 5G is faster and more reliable communications. To enable mobile broadband communications, 5G utilizes existing and new technologies to achieve extreme data throughputs. The introduction of these technologies is leading to new test demands, including the global spectrum requirements, wider channel bandwidths, and complex multi-antenna configurations.
With the 3GPP approved standalone version (Release 15.2.0) of the 5G New Radio (NR), the entire cellular ecosystem is progressing from research to product development. This means the wireless industry is also facing challenges related to cost of test and time-to-market as they make the transition from R&D to design verification and volume production.
To cost-effectively address these challenges, test engineers need access to future-proof test instruments that support the latest 3GPP standards and offer best-in-class RF performance in a flexible and scalable form factor.
The new Keysight M9410A/M9411A PXIe vector transceiver (VXT) integrates a 6-GHz vector signal generator (VSG) and a vector signal analyzer (VSA) in a 2- or 3-slot PXIe module with up to 1.2 GHz bandwidth. It enables the user to access industry-leading RF performance in a compact modular design, for improved efficiency and scalability in design verification and manufacturing test. By incorporating high-performance mmWave heads, the frequency range can be extended to mmWave.
Its flexible and future-ready architecture enables users to solve today's problems and tomorrow's challenges.
Customer Problem — Test Demands and Challenges
These cellular technology shifts bring in new test demands and considerations, such as the number and variety of frequencies, bandwidths, and antennas.
Global Spectrum Requirements
To accommodate the global spectrum requirements, the 5G New Radio (NR) standard specifies two frequency ranges (FR), sub-6GHz (FR1) and mmWave bands (FR2). This means 5G devices and test instrumentation need to support one or both frequency ranges. The use of mmWave frequencies pose challenges related to path loss and signal propagation. At these higher frequencies, the excess path loss between instruments and devices under test (DUTs) is very high. Therefore, test engineers need to move the test plane closer to the DUTs to shorten the path that signals at mmWave frequencies need to travel.
Wider Channel Bandwidth
The 5G NR maximum channel bandwidth has been defined as 400 MHz. By using carrier aggregation (CA), it is possible to achieve up to 800 MHz of aggregated channel bandwidth. To characterize the non-linear performance of the PAs using advanced measurements, such as digital pre-distortion (DPD) techniques for RF power amplifiers (PA), test engineers require signal generation and analysis tool with 1.2 GHz bandwidth (3x channel bandwidth) support.
Complex Multi-Antenna Configurations
5G technology is adopting multi-antenna techniques such as multiple-input, multiple-output (MIMO) and beamforming to improve spectral efficiency and radio coverage. The initial 5G NR standard specifies 8x8 MIMO, which increases the complexity of the multi-channel RF test system setup. The timing synchronization and phase coherency between tested channels must be aligned precisely to accurately assess the multi-channel signal performance.
To summarize, these technology shifts and test requirements introduce challenges that can only be addressed using test instruments that deliver enhanced performance and capability. To integrate design verification test (DVT) systems for 5G requires a lot of high-performance test instruments and complicated system integration. These test requirements and cost of test create higher barriers from R&D to volume production. To successfully and cost-effectively scale 5G R&D DVT to production, a new solution with combined advantages of performance, trusted measurement applications, scalability and flexibility is required.
How Does Keysight Address these Challenges?
The Keysight M9410A PXIe vector transceiver (VXT) offers flexible wide bandwidth and multi-channel support to efficiently address channel bandwidth requirements and multi-antenna configurations. The VXT uses an external mixing test structure to extend the frequency range to mmWave to address global spectrum requirements and move the test plane closer to the DUT, thereby reducing the path loss.
With a bandwidth of up to 1.2 GHz, the VXT supports 5G advanced test needs such as PA DPD characterization and carrier aggregation. Its compact modular design allows the user to integrate additional PXI modules to provide the flexibility and scalability users require to efficiently perform multi-channel and multi-site testing in the design verification and production phase. This is achieved by integrating a 6 GHz Vector Signal Generator (VSG) and a Vector Signal Analyzer (VSA) in a 2-slot PXIe module and by supporting up to eight VXT modules in an 18-slot PXI chassis.
Keysight's VXT supports a wide range of applications using the same measurement application software used in benchtop instruments. These trusted measurement applications offer users powerful troubleshooting tools and consistent measurement science to more easily and quickly transition from R&D to production.
The 3-slot VXT M9411A adds an optical digital I/O interface and custom FPGA for I/Q streaming, measurement acceleration, and proprietary signal processing for extended applications beyond measurement.
Keysight's VXT delivers best-in-class RF performance to address the above-mentioned challenges and requirements. The greater test margin in R&D DVT and production generates higher throughout yield, thereby reducing the cost of test and enabling a quicker transition from development to production. The new VXT offers a flexible, future-ready architecture that is equipped to solve today's problems and easily evolve to also meet future 5G test challenges.
Key Features and Business Benefits
1. Best-in-class RF performance: Greater test margin for R&D DVT and increased production throughout yield.
Built-in 1.2 GHz signal generation and analysis bandwidth
High output power up to +20 dBm
Excellent single sideband (SSB) phase noise <-131 dBc/Hz at 1 GHz (10 kHz offset)
Typical amplitude accuracy <±0.5 dB for both generator and analyzer
<0.5% EVM of 100 MHz bandwidth OFDM signal for accurate 5G DVT
2. Modular instrumentation: Increased flexibility and scalability by integrating systems to enable testing of complex devices.
Allows eight M9410A VXT modules in a single 18-slot chassis for multi-channel or multi-site test
Provides accurate timing synchronization and phase coherent between modules for MIMO and beamforming testing
PCIe Gen 3 interface provides high data transfer rate for streaming and other applications.
3. Trusted measurement applications: Powerful troubleshooting tools and consistent measurement science from R&D to production.
Supports the Signal Studio for waveform creation, and X-Series measurement applications and 89600B VSA software for signal analysis.
Provides a comprehensive portfolio of instrument drivers and documentation.
Together with PathWave software platform, Keysight's common software platform for connected design and test, the new Keysight solution enables wireless equipment makers to quickly and cost-effectively transition from R&D design validation, integration, and verification to volume manufacturing.
Additional Information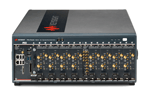 M9410A/M9411A VXT PXIe Vector Transceiver
Compact design allows eight M9410A VXT modules in a single 18-slot chassis
PNG Download (5.4MB)
About Keysight Technologies
Keysight Technologies, Inc. (NYSE: KEYS) is a leading technology company that helps enterprises, service providers, and governments accelerate innovation to connect and secure the world.  Keysight's solutions optimize networks and bring electronic products to market faster and at a lower cost with offerings from design simulation, to prototype validation, to manufacturing test, to optimization in networks and cloud environments. Customers span the worldwide communications ecosystem, aerospace and defense, automotive, energy, semiconductor and general electronics end markets. Keysight generated revenues of $3.2B in fiscal year 2017. In April 2017, Keysight acquired Ixia, a leader in network test, visibility, and security. More information is available atwww.keysight.com.
Related Information