Keysight Technologies, UC San Diego Collaborate to Prove Viability of 5G Communication with Record-Setting Data Rates of 2 Gbps at 300 m, 4 Gbps at 100 m
The following product photos are available for use by the media, based on the Keysight Photography Use Policy.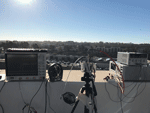 Image 1:
A team at the University of California San Diego is using this test setup to characterize the performance of its 32-element phased array at gigabit data rates over distances of 100 to 800 meters. Keysight hardware and software enabled rapid prototyping of the array as well as state-of-the-art performance measurements at 2 GHz modulation bandwidth for 5G communications. Photo courtesy of UC San Diego Jacobs School of Engineering.
Low-JPEG Download (0.1MB)
High-JPEG Download (1.8MB)

Related Information
How do I download images: