Agilent's 89600 WLA software
The following product photos are available for use by the media, based on the Keysight Photography Use Policy.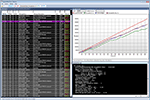 Image 1:
89600 WLA software enhancements enable simultaneous uplink and downlink analysis and chart results directly within the software.
Low-JPEG Download (0.2MB)
High-JPEG Download (3.1MB)


Image 2:
Agilent's 89600 WLA software decodes control messages and correlatesthem with the PHY-layer signals they manage, giving you greater visibility into the complexities of MAC/PHY interaction.
Low-JPEG Download (0.1MB)

Image 3:
Use the message log to view a comprehensive list of messages and choose those you'd like to troubleshoot; filter by type, description, channel, radio network temporary identifier (RNTI), and more
Low-JPEG Download (0.2MB)
Related Information
How do I download images: