Keysight Technologies 89600 VSA Software
The following product photos are available for use by the media, based on the Keysight Photography Use Policy.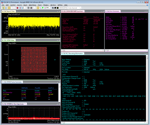 Image 1:
89600 VSA software's DOCSIS 3.1 downstream modulation analysis (Option BHM) provides information on time trace, modulation quality with IQ constellation, result summaries of OFDM frame, OFDM BER/MER and overall MER parameters along with PLC decoding.
Low-JPEG Download (0.6MB)
High-JPEG Download (2.1MB)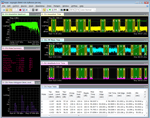 Image 2:
The Keysight 89600 VSA software's 89601B-BHQ pulse analysis option provides comprehensive views with spectrum, time, and error traces, table and histogram.
Low-JPEG Download (0.8MB)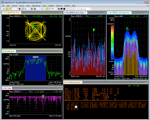 Image 3:
General purpose digital modulation analysis is available with 89600 VSA software option AYA. QPSK signal is demodulated in multiple traces with coupled markers.
Low-JPEG Download (0.6MB)
High-JPEG Download (1.9MB)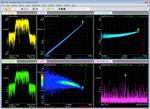 Image 4:
2 channel distortion analysis with 89600 VSA software with AM/AM, AM/PM, Gain Compression and Delta EVM over time.
Low-JPEG Download (0.5MB)
High-JPEG Download (1.3MB)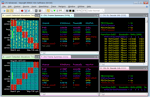 Image 5:
LTE-Advanced modulation analysis with 89600 VSA options, showing 2 component carriers used in carrier aggregation with downlink decoded information.
Low-JPEG Download (0.7MB)
High-JPEG Download (2.0MB)
Related Information
How do I download images: