Introducing the ADS DDR Bus Simulator
The following product photos are available for use by the media, based on the Keysight Photography Use Policy.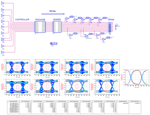 Image 1:
The top part of this image depicts a schematic of a byte lane carrying a write burst, while the bottom shows the resulting diagrams. Being surrounded by aggressors, DQ3 has the least margin in this particular case.
Low-JPEG Download (0.5MB)
High-JPEG Download (1.2MB)

Related Information
How do I download images: