Introducing Keysight's PAM-4 Capability for its Advanced Design System Channel Simulator
The following product photos are available for use by the media, based on the Keysight Photography Use Policy.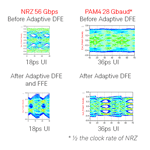 Image 1:
The ADS channel simulation enables a comparison of PAM-4 versus NRZ technology.
Low-JPEG Download (0.4MB)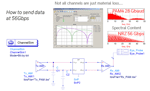 Image 2:
The example shown here demonstrates the concept of price versus performance in PCB design. Cheaper PCB materials with more loss and no-backdrilling of vias are more likely to exhibit resonances at higher frequencies. This channel may not support NRZ to 56 Gbps, but will support PAM-4 more easily, assuming that the resonances are higher in frequency than the main spectral content of the PAM-4 signal.
Low-JPEG Download (0.4MB)
Related Information
How do I download images: