Keysight Technologies Selected by Bosch to Equip New AE InnoLab with Electronic Test and Measurement Equipment
The following product photos are available for use by the media, based on the Keysight Photography Use Policy.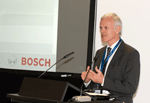 Image 1:
Sigi Gross, vice president and general manager, Keysight's Electronic Test Division presenting the keynote presentation at the Bosch AE InnoLab grand opening.
Low-JPEG Download (0.4MB)
High-JPEG Download (7.2MB)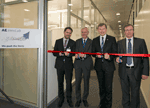 Image 2:
From left to right: At the Bosch AE InnoLab grand opening.ceremony were Oliver Kessling (Arburg), Sigi Gross (Keysight), Klaus Meder (Bosch), Andreas Lock (Bosch).
Low-JPEG Download (0.2MB)
High-JPEG Download (18.1MB)

Related Information
How do I download images: