Agilent Calibration Centers for Electronic Measurement Instruments
The following product photos are available for use by the media, based on the Keysight Photography Use Policy.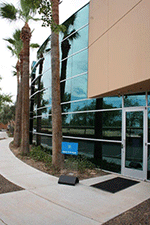 Image 1:
Agilent Technologies office in Chandler (Phoenix), AZ. This site is home to Agilent calibration service, sales, application engineering, and manufacturing of atomic force microscopes.

Low-JPEG Download (0.1MB)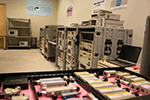 Image 2:
Agilent Technologies Phoenix Calibration Center. This lab is equipped with the required instruments, network analyzer cal kits, power sensors, and accessories to perform Agilent OEM calibration procedures on customers' high performance instruments up to 50 GHz, such as the N5245A PNA-X Network Analyzer or N9030A PXA Spectrum Analyzer.
Low-JPEG Download (0.1MB)
Related Information
How do I download images: