Introducing Agilent's 2014 Device Modeling and Characterization Software
The following product photos are available for use by the media, based on the Keysight Photography Use Policy.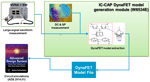 Image 1:
The new DynaFET model extraction package is an integral part of Agilent's GaN HEMT characterization, modeling and simulation solution.
Low-PNG Download (0.5MB)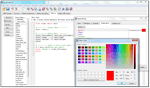 Image 2:
The new Programming Editor in 2014.04 enables more efficient and productive code development.
Low-PNG Download (0.3MB)
Related Information
How do I download images: