Keysight Technologies ENA vector network analyzer
The following product photos are available for use by the media, based on the Keysight Photography Use Policy.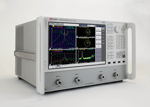 Image 1:
The Keysight E5080A ENA offers the industry's best combination of RF measurement performance and speed, enabling a tenfold improvement in test.
Low-JPEG Download (0.3MB)
High-JPEG Download (0.9MB)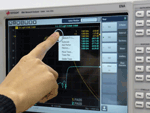 Image 2:
The Keysight E5080A ENA's intuitive, touch-based interface delivers ease of use capabilities that helps engineers get better results in less time.
Low-JPEG Download (0.4MB)
High-JPEG Download (1.3MB)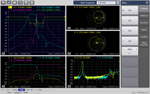 Image 3:
Keysight is the first VNA vendor to provide a software platform that spans both benchtop and PXI-based VNAs. This universal software platform leverages the best attributes and capabilities of the ENA and PNA families and delivers familiar functionality across all Keysight VNAs.
Low-JPEG Download (0.4MB)
High-JPEG Download (0.7MB)
Related Information
How do I download images: