Introducing Keysight's HDMI 1.4b MOI
The following product photos are available for use by the media, based on the Keysight Photography Use Policy.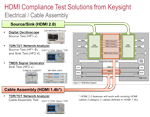 Image 1:
Keysight HDMI Compliance Test Solutions. The E5071C ENA Option TDR covers source/sink impedance tests, and cable assembly tests.
Low-JPEG Download (0.4MB)
High-JPEG Download (0.6MB)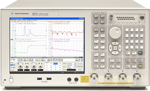 Image 2:
The ENA Option TDR provides a one box solution for high-speed interconnect analysis, including impedance, S-parameters and eye diagrams.
Low-JPEG Download (0.1MB)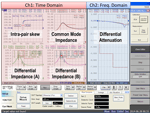 Image 3:
The MOI and test package work with the ENA Option TDR for efficient measurements according to the HDMI compliance test specification.
Low-JPEG Download (0.7MB)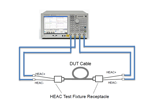 Image 4:
The HEAC channel is connected through HEAC test fixtures (receptacle).
Low-JPEG Download (0.1MB)
Related Information
How do I download images: