Agilent Technologies' GoldenGate Software
The following product photos are available for use by the media, based on the Keysight Photography Use Policy.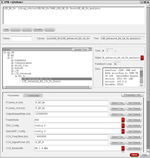 Image 1:
Shown here is the GoldenGate 2013.10 VTB selection user interface for pre-configured Wireless testbenches.
Low-JPEG Download (0.2MB)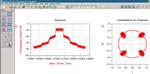 Image 2:
This image shows the GoldenGate 2013.10 spectral mask and constellation diagram results for a LTE testbench.
Low-JPEG Download (0.1MB)
Related Information
How do I download images: