Introducing Agilent Technologies' Pre-Standard IBIS-AMI Modeling Guidelines
The following product photos are available for use by the media, based on the Keysight Photography Use Policy.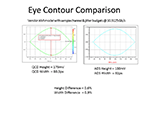 Image 1:
Agilent and SiSoft created an extensive suite of tests and found excellent correlation between QCD and ADS. The BER contours illustrated here are results from a test with jitter and channel impairments imposed on a 10.3125-Gb/s signal. 
Low-JPEG Download (0.1MB)
Related Information
How do I download images: