Keysight Technologies N8839A Hybrid Memory Cube (HMC) Compliance Test Software
The following product photos are available for use by the media, based on the Keysight Photography Use Policy.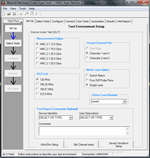 Image 1:
The new N8839A HMC compliance test software supports up to 30 Gb/s data rate HMC signal.
Low-JPEG Download (0.2MB)
Image 2:
The tool performs quick voltage, jitter, signaling rate and return loss measurements as defined in the HMC specification.
Low-JPEG Download (0.1MB)
Related Information
How do I download images: