Agilent U5309A 2 or 8 Channels, PCIe 8-bit High-Speed Digitizer with On-Board Processing
The following product photos are available for use by the media, based on the Keysight Photography Use Policy.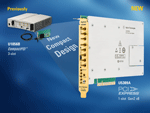 Image 1:
Eight-channel of 8-bit high-speed digitizer concentrated from a large three-slot cPCI system into a single-slot U5309A PCIe Gen2 8-lane card.
The U5309A PCIe digitizer directly plugs into a host PC and immediately provides a ready-to-use eight-channel 1 GS/s acquisition system with DC to 500 MHz bandwidth.
Low-JPEG Download (0.3MB)
High-PNG Download (5.1MB)

Related Information
How do I download images: