Keysight's VXT PXIe Vector Transceiver Delivers Faster Solution Creation, Reduced Test Times, Greater Test Density in Wireless Manufacturing Test
The following product photos are available for use by the media, based on the Keysight Photography Use Policy.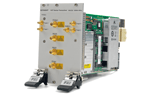 Image 1:
Gain accelerated measurements and deep software with the Keysight M9420A VXT PXIe vector transceiver; purpose-built for rapid solution creation and faster throughput in manufacturing test of wireless components and "Internet of Things" (IoT) devices.
Low-JPEG Download (0.3MB)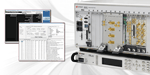 Image 2:
Start closer to your manufacturing finish line by using the VXT combined with Keysight's Reference Solution for RF PA/FEM Characterization & Test.
Low-JPEG Download (0.3MB)
High-JPEG Download (5.4MB)
Related Information
How do I download images: