The Keysight U2040 X-Series Wide Dynamic Range Power Sensors
The following product photos are available for use by the media, based on the Keysight Photography Use Policy.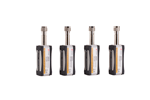 Image 2:
The U2049XA LAN power sensor is the world's first thermal vacuum compliant sensor and is designed for fault detection and long distance, remote monitoring of satellite systems.
Low-JPEG Download (0.1MB)
High-JPEG Download (0.6MB)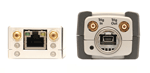 Image 3:
The LAN/Power over Ethernet port on the U2049XA LAN power sensor (left) and the USB port on the U2044XA USB peak and average power sensor (right).
Low-JPEG Download (0.1MB)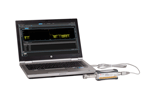 Image 4:
Perform data capture and analysis with the Keysight BenchVue software, which is bundled free of charge with each U2040 X-Series sensor.
Low-JPEG Download (0.2MB)
High-JPEG Download (3.1MB)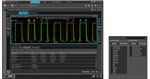 Image 5:
For the U2040 X-Series, functions such as multi-channel trace display with four-pairs of gates and automatic pulse parameters measurement are available on the BenchVue software.
Low-JPEG Download (0.2MB)
High-JPEG Download (0.7MB)
Related Information
How do I download images: