Agilent MXG and EXG X-Series Signal Generators
The following product photos are available for use by the media, based on the Keysight Photography Use Policy.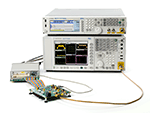 Image 2:
Shown here is the N5182B MXG vector signal generator with N5102A digital signal interface module streaming 16 bit parallel I and Q data into a DUT evaluation board.
Low-JPEG Download (0.2MB)
High-JPEG Download (3.1MB)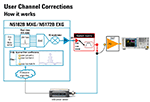 Image 3:
The functional block diagram shows how the X-Series signal generator's user channel corrections can equalize your test texture.
Low-JPEG Download (0.2MB)
High-JPEG Download (3.1MB)
Related Information
How do I download images: