Keysight Technologies Battery Drain Analysis Solutions for Operation Critical Applications
The following product photos are available for use by the media, based on the Keysight Photography Use Policy.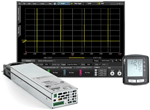 Image 1:
Power consumption is growing faster than the capabilities of today's mobile, battery-powered devices. Our power products N6705, N6781A, N6785A and 14585A Control and Analysis SW provide insight into battery drain and offer a wealth of resources to help you gain fast, real-world insight into battery drain, speed device test and ensure performance.
Low-JPEG Download (0.1MB)
Related Information
How do I download images: