Keysight Technologies N8827A PAM-4 Analysis Software Adds BER Capability
The following product photos are available for use by the media, based on the Keysight Photography Use Policy.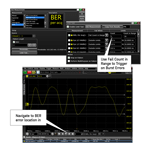 Image 1:
The Keysight N8827A allows Bit Error Ratio testing on PAM-4 signals and can help to identify burst errors. BER/SER per acquisition feature helps to identify and locate burst errors. PAM-4 eye unfolding capability shows location of BER/SER errors in the PAM-4 signal.
Low-JPEG Download (0.6MB)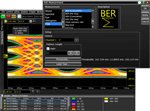 Image 2:
BER/SER measurement features allow you to measure the statistical Bit Error Ratio (BER) or Symbol Error Ratio (SER) of your PAM-4 signal. Public Introduction Date of Announcement.
Low-JPEG Download (0.6MB)
Related Information
How do I download images: