RF Power Amplifier Manufacturing Reference Solution with Envelope Tracking
The following product photos are available for use by the media, based on the Keysight Photography Use Policy.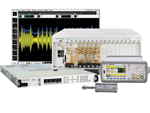 Image 2:
M9391A PXIe vector signal analyzer and M9381A PXIe vector signal generator in M9018A 18 Slot PXIe chassis with M9036A PXIe embedded controller.
Low-JPEG Download (0.3MB)
High-JPEG Download (5.3MB)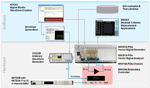 Image 3:
RF power amplifier manufacturing reference solution architecture.
Low-PNG Download (0.4MB)
Related Information
How do I download images: