Keysight Technologies Donates Oscilloscopes to University Engineering Programs
The following product photos are available for use by the media, based on the Keysight Photography Use Policy.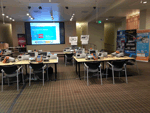 Image 1:
Keysight's A+ seminars are a highly interactive environment where experienced engineers and technicians have the opportunity to ask questions and gain insight relevant to their current application specialties.
Low-JPEG Download (0.6MB)
High-JPEG Download (3.0MB)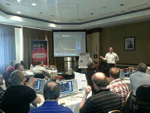 Image 2:
Keysight interns led Keysight's A+ Hands-On seminars during 2014.
Low-JPEG Download (0.1MB)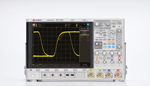 Image 3:
The Keysight MSOX4154A oscilloscope delivers unprecedented performance with the industry's fastest 1,000,000 waveforms/sec update rate.
Low-JPEG Download (0.2MB)
High-JPEG Download (3.9MB)
Related Information
How do I download images: