Agilent Technologies U5855A TrueIR thermal imager, predictive maintenance, building maintenance
The following product photos are available for use by the media, based on the Keysight Photography Use Policy.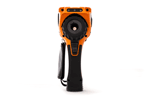 Image 2:
The U5855A was designed to be light and ergonomic, allowing engineers to comfortably use the thermal imager for longer periods of time.
Low-JPEG Download (0.2MB)
High-JPEG Download (2.3MB)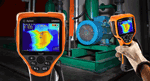 Image 3:
The U5855A captures clear and sharp thermal images with the Fine Resolution capability, which enhances the quality of thermal images by reconstructing the image based on multiple continuously captured infrared frames.
Low-JPEG Download (0.6MB)
High-JPEG Download (4.7MB)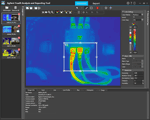 Image 4:
Import, analyze, edit and present thermal images swiftly with the TrueIR Analysis and Reporting Tool PC software.
Low-PNG Download (0.3MB)
Related Information
How do I download images: