Keysight Technologies, University of California San Diego Demonstrate the World's Fastest 28 GHz 5G Band, Bidirectional Phased-Array
The following product photos are available for use by the media, based on the Keysight Photography Use Policy.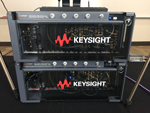 Image 1:
Keysight's M9383A PXI microwave source is used to validate a 28 GHz beamforming system over-the-air, using an 800 MHz wide pre-5G signal.
Low-JPEG Download (0.3MB)
High-JPEG Download (2.0MB)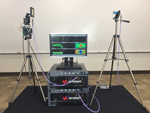 Image 2:
The University of California San Diego phased array is shown transmitting a wideband 28 GHz pre-5G signal, with the help of a Keysight 5G millimeter wave testbed.
Low-JPEG Download (0.2MB)
High-JPEG Download (1.9MB)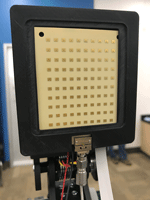 Related Information
How do I download images: