New KeysightCare services enable design and test engineers to speed innovation and accelerate time to market
SANTA ROSA, Calif., December 3, 2018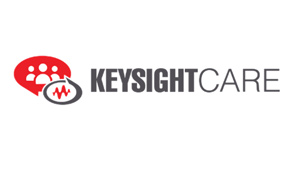 Keysight Technologies, Inc. (NYSE: KEYS), a leading technology company that helps enterprises, service providers, and governments accelerate innovation to connect and secure the world, today announced KeysightCare, a new service model that offers design and test engineers dedicated, proactive support for instruments, software, and solutions.
Not maintaining equipment can lead to costly errors that delay product development and put a customer's potential market advantages at risk. Addressing these issues starts with keeping equipment up-to-date with the latest software and current calibration. KeysightCare offers unparalleled access to a range of resources such as technical experts, training materials, productivity tools, knowledge centers, and success managers, to speed customer innovation, and accelerate product time-to-market. KeysightCare provides:
A choice of service-level agreements that help prioritize support and deliver rapid response times via a dedicated portal that tracks support cases and offers access to relevant expert information
Improved predictability of projects with scheduled calibration of test equipment and certified precision to support the intense demands of the latest industry applications and standards
Insight into potential issues before they happen, with proactive notifications of the latest software and firmware updates, and access to online resources such as the Keysight Knowledge Center and productivity tools
Enhanced productivity of engineering teams with dedicated access to experts who possess deep knowledge and understanding of current and changing technologies, as well as industry standards
"Our customers need to meet a faster technology development cycle. They cannot be late due to delays caused by lack of software and hardware updates, test equipment failure, test methodology questions, or equipment calibration requirements," stated John Page, president of Keysight Global Services. "KeysightCare offers enhanced service levels that will enable engineers to deliver better, faster results, consistently."
KeysightCare is offered in three service levels: Assured, Enhanced and Performance:
KeysightCare Assured Delivers Fast Support
The KeysightCare Assured service level offers committed response time to get customers the technical answers they need, faster.  A customer portal delivers access to a cloud-based knowledge base containing the latest information developed through decades of R&D and test experience, plus online support to manage service requests, and access to expert advice related to test and measurement challenges.
KeysightCare Assured will be enabled on select products shipping after December 3rd, 2018.
KeysightCare Enhanced Delivers Priority Support
The KeysightCare Enhanced service level enables customers to avoid costly errors and delays with ongoing calibration, personalized support, and faster response times with a customer service manager focused on quickly identifying the procedure, test expert, or equipment updates needed to address a specific challenge.
KeysightCare Performance Delivers Enterprise Support
The KeysightCare Performance service level is ideal for customers focused on being first to market or who have a mission-critical project. It offers all the benefits of the previous tiers, plus emergency access to support outside normal business hours, and on-site services designed to keep customers efficiently operating from design to manufacturing.
For more information on KeysightCare visit www.keysight.com/find/KeysightCare.
About Keysight Technologies
Keysight Technologies, Inc. (NYSE: KEYS) is a leading technology company that helps enterprises, service providers, and governments accelerate innovation to connect and secure the world. Keysight's solutions optimize networks and bring electronic products to market faster and at a lower cost with offerings from design simulation, to prototype validation, to manufacturing test, to optimization in networks and cloud environments. Customers span the worldwide communications ecosystem, aerospace and defense, automotive, energy, semiconductor and general electronics end markets. Keysight generated revenues of $3.9B in fiscal year 2018. More information is available at www.keysight.com.
# # #
Additional information about Keysight Technologies is available in the newsroom at www.keysight.com/go/news, Keysight blog, and on Facebook, Google+, LinkedIn, Twitter and YouTube.
Contact:
Geri Lynne LaCombe, Americas/Europe
+1 303 662 4748
geri_lacombe@keysight.com
Fusako Dohi, Asia
+81 42 660-2162
fusako_dohi@keysight.com