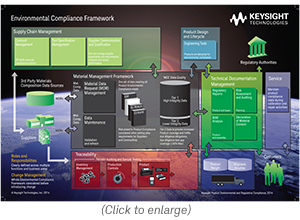 Introduction
Objectives
The Environmental Compliance Framework fulfills the following objectives:
Allow Keysight Technologies, Inc. to meet regulatory reporting requirements:

Product compliance with maximum concentration value by weight in homogeneous materials (percentage) - roll-up of compliance state of parts & sub-assemblies e.g. EU RoHS (future)
Substance weight reporting (total mass) e.g. US Mercury (Hg) Laws
Substance concentration (percentage) roll-up of total weights for each substance as a percentage of total weight of article (product) e.g. EU REACH

Sustain and facilitate compliant product design, development, production, refurbishment and support
Protect the investment made both in infrastructure and materials compliance data
Have defined data quality standards (including data refresh and validation intervals) with associated Roles and Responsibilities to assure continued confidence in data content and reports.
Links the physical (part, assembly, product) to the appropriate data through a clear and traceable set of linkages
Materials Management Framework
The Enovia Materials Compliance Central (MCC) module is Keysight's system of record for direct materials compliance data.
This assures a consistent approach to requesting and managing materials compliance data between Keysight and its suppliers.
Data collection is performed by two teams; one focused on Standard parts while the other is responsible for custom parts.
Material Declaration Overview
Keysight sends material declaration requests to suppliers and requires that these be filled out and returned with accurate assessment of EU RoHS compliance data, including any valid exemptions used. Note that Keysight Technologies' products are considered Category 9 industrial monitoring and control instruments, which allows for applications exempted from the substance restrictions in both Annex III and Annex IV.
While Keysight's data collection has been focused on EU RoHS compliance data, there is a recognized need to better understand the full composition of parts built into our products. This insight allows Keysight to meet regulatory obligations for our products and also minimizes the burden of multiple data requests on our suppliers. Keysight prefers that suppliers provide full material declarations.
Further details are available from Keysight's Materials Declaration Requirements
Data Maintenance
Environmental Compliance data that has aged four years since its initial collection shall be validated with the supplier;
Data Validation: Validating data that Keysight already has; a simple verification activity that does NOT require new materials compliance information to be collected covering as a minimum:
EU RoHS Compliance state, and
Any EU RoHS Exemptions applied
Following a successful review, Data Validation only requires the date of the supplier's response to be recorded.
Requirements for Keysight's Direct Material Suppliers