Introducing Keysight's 2016 Advanced Low Frequency Noise Analyzer
The following product photos are available for use by the media, based on the Keysight Photography Use Policy.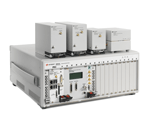 Image 1:
The E4727A A-LFNA hardware consists of a PXIe chassis and several modules that may be used to connect to various device types.
Low-JPEG Download (0.2MB)
High-JPEG Download (0.5MB)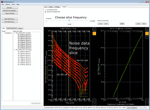 Image 2:
By slicing the noise data at one frequency, we may see the trend in drain current noise ("Sid") as a function of bias current.
Low-JPEG Download (0.2MB)
High-JPEG Download (0.9MB)
Related Information
How do I download images: