Keysight Technologies, Inc. Extreme-Temperature Oscilloscope Probing Solutions
The following product photos are available for use by the media, based on the Keysight Photography Use Policy.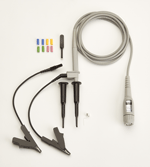 Image 1:
The N7007A is a 2-meter long, 10:1 passive probe with 400 MHz bandwidth that can withstand temperatures ranging from -40 degrees to +85 degrees Celsius, making it ideal for a broad range of general-purpose extreme temperature and automotive applications.
Low-JPEG Download (0.2MB)
High-JPEG Download (2.0MB)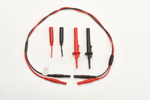 Image 2:
The N7013A is a 70-cm-long extreme temperature extension kit compatible with several Keysight differential active probes.
Low-JPEG Download (0.2MB)
High-JPEG Download (5.9MB)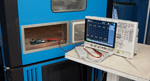 Image 3:
These probing solutions allow the main body of the temperature-sensitive differential active probe to be placed outside an environmental chamber, while the extension kit (70-cm-long cable pair) and connection adapters can be extended into the environmental chamber under extreme-temperature conditions ranging from -40 to +85 degrees Celsius.
Low-JPEG Download (0.3MB)
High-JPEG Download (0.7MB)
Related Information
How do I download images: