Keysight Technologies, Inc. Automated ICT System U9406A i1000D for IPTE MFT19 Handler
The following product photos are available for use by the media, based on the Keysight Photography Use Policy.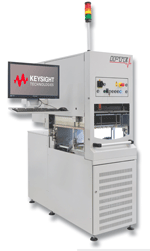 Image 1:
Keysight i1000D integrated with the MFT19 Multi-Functional Test handler provides flexible inline ICT automated solution from single engine ICT to parallel or asynchronized test.
Low-JPEG Download (0.4MB)
High-JPEG Download (0.7MB)

Related Information
How do I download images: